Our Responsibility
We love what we do.
We've been designing and developing footwear and accessories for over 25 years, so we know what goes into making a quality product. We also know that footwear and fashion are complicated businesses and that we have a responsibility to both the planet and our community. We are committed to ensuring that our strategy and goals recognise this responsibility and across our organisation, we are making important changes to incorporate sustainable practices.  
Good Things Come in Good Packages
Our shoes need to reach you in perfect condition which means being well-packaged. We've taken a good look at our shoe boxes and bags and have challenged ourselves to do better.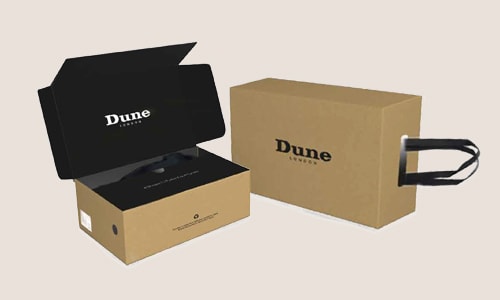 Our shoes need to reach you in perfect condition which means being well-packaged. We've taken a good look at our shoe boxes and bags and have challenged ourselves to do better.  We are looking forward to introducing new Dune London shoe boxes which will be made of recycled material and FSC certified cardboard. They will also be recyclable and inks will be water-based. Our dust bags will be replaced with bags made from recycled materials. We are working with our suppliers to phase out single-use plastic filling too. And we have now eliminated plastic carrier bags from our stores replacing these with paper bags which fully recyclable with a twisted paper handle. Our European store distribution network is via DHL, which is carbon neutral.  
Change Begins at Home
Our HQ in central London and our distribution centre in Leicester have been focusing on the way we manage waste and use plastic.
• Across both sites, plastic bottles have been replaced with glass and we have removed individual rubbish bins, instead having central waste and recycling areas.
• Our canteen has replaced plastic straws and cups with paper, we've introduced a hot drinks discount for reusable cups and we use real plates and cutlery. Recently, we've started circulating a printing report to encourage people to print less with a truly paperless office being our goal.
• In our distribution centre we have introduced significant energy saving initiatives through new, more efficient lighting solutions and heat saving measures as well as waste water reduction. All cardboard from new stock intake is re-used for additional packaging and redistribution.
• For new stores and refits we use materials which are recycled and FSC certified where available and we install energy efficient lighting and glazing.  
Great Shoes Shouldn't go to Waste
We are devoted to crafting quality footwear and accessories. It is with this focus that we continue to create innovative pieces every season, each one unique and trusted to last well beyond a trend.
Making sure our used and unsold products are worn and not sent to landfill is a priority. Good quality items are donated to charities and last year we supported Goods for Good, Save the Children and SmartWorks. Where the goods are unsuitable for donation, they are repurposed or donated to United Shoe Recycling who use them to provide inexpensive and urgently required footwear for those in need.
In 2019 we partnered with
reGAIN
to encourage our customers to take part in a responsible economy by recycling unwanted shoes and indeed clothes. Customers can bring any unwanted items into one of the 20,000 drop off points across the UK and exchange them for a discount off their next purchase with Dune London. All items are then reused and recycled and will not end up in the ground.  
Giving Back
We feel strongly that we should support and give back to the community. This year our employees chose
YoungMinds
who are leading the fight for a future where the mental health challenges of young people get the support they deserve.
We are working closely with them on a calendar of exciting events in 2020. Each year we have a big fundraising event, be it the National Three Peaks Challenge or jumping out of planes! We also have various fundraising activities throughout the year, including bake sales and sample sales where all employees can take part.  
We have previously raised hundreds of thousands of pounds for charities such as Teenage Cancer Trust and End Youth Homelessness with multiple fundraising events and special products where all profits are donated.
In 2019 we established Dune Group Giving to support causes that are personal and meaningful to our employees. Money raised from smaller fundraising initiatives is available for specific causes or projects close to their hearts.
We believe that it is important for our teams to get involved in charities and projects that are local, where all donations can have a significant impact.  
Our Suppliers
We are proud to have forged long-term relationships with all our factories and suppliers. They share our values and promote a culture of safety, support and training for their workers. Our teams work alongside each other in a spirit of partnership and collaboration.
We recognise that footwear and fashion are complex industries which affect the environment, communities and the lives
of the people who work in our supply chain.
We require all of our suppliers to operate according to the standards set out in our
Ethical Trading Code of Conduct.
To ensure this, we maintain a constantly updated record of all our suppliers and factories so that we know where our products are coming from. Our core 18 suppliers account for 85% of unit volume and we set targets for direct audits, external audit tracking and chemical testing.
We run a programme of on-going audits with our factories both 3rd party external audits as well as regular audits from our own Quality Assurance team and last year we strengthened our QA team and upgraded our recording and central record keeping.
Our
Modern Slavery Act Statement
sets out the steps that we have undertaken to ensure that modern slavery is not taking place anywhere within our business or our supply chain.  
Best Foot Forward
We are currently developing an exciting range of products which are made from environmentally friendly materials, starting with a trainer and some flip-flops. We are committed to finding environmentally-friendly materials for products that contain the Dune London design signature and DNA for quality and fit.  
Lining
Made from 64% recycled cotton and polyester supplied from recycling unwanted shoes and clothes.  
Laces
Composed from 75% recycled cotton and 25% recyclable polyester fibre.  
Insole Board
Made from recycled materials that would usually be discarded by footwear factories.  
Leathers
The leathers have been made in a tannery certified gold by the Leather Working Group, meaning the process is completely chrome and metal free.   
Rubber Soles
The rubber is sourced and tapped from trees in a sustainable way which doesn't contribute to deforestation.
We are determined to bring more sustainable practices and materials into our business but recognise that there is much work to be done. We are rising to the challenge, building on our current achievements and finding new solutions for packaging, waste reduction and reducing our energy consumption. We intend to dig deeper into all aspects of our business to establish more transparent working practices and to work alongside our partners and suppliers to reduce our environmental impact.